Digging through dusty record bins or in the studio arranging some smooth and jazzy drum & bass is where you are likely to find Soulful Nature. Building on an already nice catalog of music, his newer "Memories" EP is another great selection. We were lucky to get in touch with Soulful Nature for a few questions regarding his love of vinyl and music productions.
Hello Richard, thanks for making time to talk about some music. Keeping busy as usual?
Hey! I'm keeping busy at the minute trying to balance work life, with family life, with writing music. It can be tough at times. A busy week at work or at home and you find yourself limited to a few hours of writing music which can be frustrating. It's not something that I can really change as bills have to be paid. What it does mean though, is when I get into the studio I have to be focused and ready to go.
We hear that you also caught the vinyl bug ages ago. What age did you start up your vinyl collection and what are a few of your personal favorites?
I started collecting in 1999 around the same time I got my first pair of Sound Lab turntables. I used to buy from record shops in Leicester. Shops like 5HQ, MG Discs, BPM which unfortunately are no longer around. Another shop Rockaboom is still going and I still go in there from time to time. I also used to buy from Tom at Redeye Records. There weren't websites really back then so they used to send out an A4 sheet with all the new releases and back catalogue on. You would have to ring them up to order and wait a week which is mad thinking about things have moved on these days. Some of my favorite vinyl that I've collected over the years have been releases that had been quite difficult to find.
Reprazent - Watching Windows (DJ Die Gnarly Mix) - I paid a ridiculous amount for this back in the day as it was so rare to find. It has lost some of it's exclusivity now that its been released digitally. The LFO wobble that comes in for a brief section halfway through still does the business even now
Conquering Lion - Code Red 94 Remix - Island Records - I initially bought this as I was hunting down what I later found out to be 2 Degrees by TNT! Another DJ had said that the track was called Code Red and so I bought it from Marks Classics I think. It wasn't what I thought it was going to be but the track was a killer that I really didn't mind at all. You can't go wrong with ragga jungle vibes.
Submorphics - Wax Poetic - West Bay - When Atlantic Connection was still heavily involved in the drum and bass scene I would buy anything that he released on sight. I loved the original of the flip on this one which was 'Danger Zone' by Atlantic Connection and Lynx. However the B side 'Wax Poetic' is such a great track and it's what really got me into Submorphics music and his sample led rolling sound.
Pay As You Go Kartel - Know We - Not On Label - When Garage was just beginning on the path to Grime I used to love listening to PAYG. Their energy on the mic reminded me of old Hysteria tapes where it was so raw it drew you in. Still a massive fan of Wiley to this day.
Jack Penate - Second Minute or Hour - Young Turks - Around the time Indie was at it's peak I saw Jack Penate support Hot Chip. He released a limited 7" vinyl run of his single with brilliant artwork and a numbered Polaroid on the front. Sometimes I buy records just on the strength of the artwork as personally I find the work that goes into them really engaging too.
Your newest release on the Nexgen Music label, is the "Memories" EP. This is a great selection of liquid drum & bass! Each track is filled with great atmosphere and rhythm. All four tracks are equally good and have a great collective sound. Are you pleased with the feedback and support?
I'm always happy if someone has taken their time to listen to my music and support it. In terms of a collective sound for the EP, I think it comes across that way as I have a new way of working at the minute so it helps in providing that level of coherence across the EP.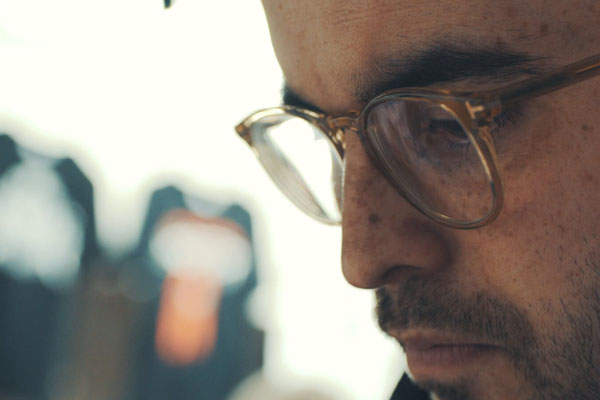 Have you been asked to do any remix work yet?
D.A. has asked me to remix a couple of Kachina's tracks which I cant wait to do as they are so musical and full of interesting sections. I've also been trying to talk Rob Sparx into giving me the parts to 'Wildlife', a track he produced awhile back that I'm really feeling. I think he will let me otherwise, I'll ring him everyday until he relents!
It is clear that you have the ability to create a nice musical setting that would attract some vocalists. Is there any vocalists in particular that you would like to work with?
Vocalists are definitely an area I would like to get involved in. At the school where I work there area a number of vocalists so I have options plus we have some amazing vocalists signed to NexGen that have been working with Kachina over the last year. Collaborations with them has definitely been mooted. Unfortunately it's just a lack of time for me at the minute to be able to get them in for a day to work on a track.
What upcoming productions or dj gigs should we keep on the radar?
I'm planning to have some DJ gigs over the summer at Sub8Ten in Leicester as Rob Sparx and Dan Prangman who are also signed to NexGen are putting on events there at the moment. It's a smaller space but in my eyes this is a plus point as it makes it more intimate with the crowd. In terms of production I've got a track entitled 'Indifference' coming out on a limited edition vinyl project on NexGen this summer and also hopefully an EP dropping later on in the year, just need to complete a couple of tracks and that one will be wrapped up and ready to go.
Any closing thoughts or shout outs?
Shout out to the NexGen Family, Created By TEN, DnB Misfits, Woodside Lodge crew, all the DJs and ravers promoting and buying the EP and last but not least my family who give me so much support.
Keep tabs on Soulful Nature at any of the following links: