Residing in Dubai, Altitude has been making music for a number of years now and offers consistent productions along with a, quality over quantity mindset. With an already impressive back catalog while still remaining somewhat elusive, Altitude is venturing back into the light with new music out now on none60 Records. We have been able to get in touch with Altitude for an update on things.
Hello Ali, it's a pleasure to have you on board for a chat. Hopefully things are going well for you lately?
I'm about to go on a very needed holiday, so things are always good when holidays are imminent. This is a music chat though, so to touch on that, thrilled to be returning to releasing music after a long break where I swapped my laptop and DAW for a period teaching myself the guitar which has been a frustration and a joy at the same time! My return is kicked off with "Future You" as part of the brilliant "None of the Above" album on None60.
The compilation album, "none of the Above", on none60 Records is filled with a nice variety of artists and music. Nice work on your track, "Future You", that is filled with a dark and moody underground essence, but still has that open atmospheric feel. What a great label and compilation to be included on. Any thoughts on the new album?
It's a huge privilege to feature on this album. I've been a fan of the label for years and have been a regular listener of the podcasts. I think the album delivers everything you expect and more from this forward thinking label that really does dare to venture into uncharted territories with everything they do. I am highly critical of my own work to the point of almost having hung up my production hat over the last year, so being true to my nature, I am critical of my contribution alongside the others. I like every track on it, but I've got to say that Oliver Yorke's "U No" makes a worthy sampler to the album on wax - Fabulous tune! And Wagz' "Hyena" just feels like it's a classic to me. Really captivates that Jungle / Drum & Bass vibe and in a way, reminiscent of the great Metalheadz which is never a bad thing, is it!
Care to share any news about current work, collaborations, or possible upcoming releases?
I am coming out of a very deliberate break from producing Drum & Bass that was brought on by a mix of writers block and becoming too critical of my own work. I lost the ability to just let the flow take charge as is what happened with most of the music I have released over the past 8 years or so. The music that received the best reactions were always the ones that "wrote themselves", as they say. That stopped happening, so I took a break of about 18 months or so and channeled my creative attention elsewhere. I'm glad to be returning with "Future You" on None60. The folks at In-Reach Records recently approached me after hearing the None60 release and have picked up a couple of tracks called "Elemental" and "Hurt You" for their schedule sometime late this year or early next. Apart from that, I plan to get my head down and write some new music....or rather, let it write itself! I'll see what happens from there. The best part of having taken a break is feeling much more laid back about it all which I think is a critical ingredient to support a healthy creative process!
What are few of the music labels that drew you to drum & bass music?
I have been listening to Drum and Bass for a long time. Starting off as a teenager, I used to collect tape pack recordings of Dreamscape, Helter Skelter, One Nation raves - not really understanding exactly what I was listening to but just catching the vibe. I followed those years spending most weekends as a young adult at clubs like Fabric, The End, Mass and other London spots in the early 2000s discovering the music and lifestyle. The love grew from there and I've followed the music ever since. It's hard to name labels because there are so many, but I'll chuck a few at you in no order and no emphasis on one or the other, all just great platforms for an amazing genre and very much a focus on what drew me in during the earlier years,...Ram, Metalheadz, Virus, innerground, good looking, CIA, Soul:r, V Recordings, Shogun, Exit, Signature...and so many more!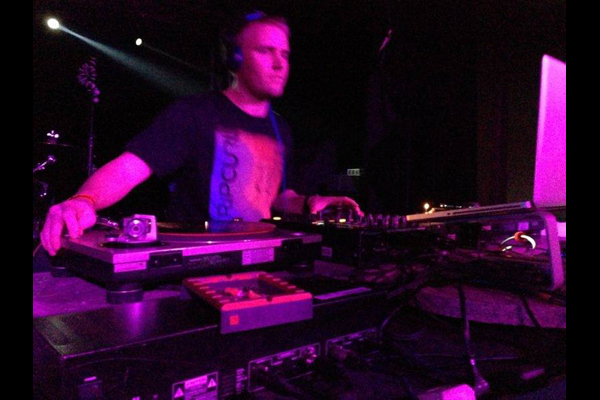 Any suggestions or advice to share about studio equipment, good software plugins, or general work practices, for any level of producer?
I am an advocate of simplicity and not at all technical in my approach to production. I consider it best to master a few things than to load up on plug-ins and dabble with them. I use Ableton and have very few third party plug ins but one that has featured regularly, particularly on my more recent productions is the waves "Tool Rack" that I have used for distortion. This features heavily on "Future You" and is how those distorted bass sounds were achieved along with some reverbs that are likely to be the result of Izotope Ozone which I use as individual units and for final masters. Like so many others, I usually base my music around a good sample, sound etc and build from there. If only I was skilled enough to achieve what I wanted to every time. I have gathered so many over the years that are waiting for the right cosmic circumstances to evolve into great tunes!
You continue to deliver quality productions with nice versatility and deep moods that pull you in as a listener. Two of our favorites here at DNB Universe are, "Cotton & China" that was part of the Fokuz "Source Of Life" boxset from a few years back and "Stay Strong" with Paul SG on Good Looking. Any particular inspiration behind either of these songs?
First off, thanks for the compliment! I'm glad you feel there is a strong vibe and versatility in my output. It's always important to explore different vibes but the pressure to feel like you need to slot into a box in the scene can sometimes feel strong, even if it's self inflicted pressure! I'm glad to carry on the variety as what I mentioned earlier is forthcoming moves back towards the more liquid-esque vibes I was known for. Two quite different stories with those two tracks actually. "Cotton & China" came together quickly based around that lovely piano sample that reminded me of classic jungle. It started life as a more jungle driven breakbeat before ending up more of the stepper liquid break it runs over. "Stay Strong" started life as a totally different and more laid back tune which included the pretty cool vocal I found, that relentless cowbell and some of the sounds. I couldn't get it right and shared it with Paul as we were discussing ideas to collaborate on. Paul injected his magic and turned it into something all together quite different and more driving with those very signature bass and breaks...not to mention his musical prowess! I have always envied Paul's prolific output, so glad we got to work together on the label and through collaborating.
Can you give us a few music selections to check out that you have on rotation lately?
With my life at work, a couple of kids and everything that comes with that, I am less on the pulse these days but remaining on rotation in my house are: Anderson Paak "Malibu", pretty much anything by Jordan Rakei but particularly the two ninja tunes albums, Mark System introduced me (and many other readers) to Bob Moses who I love, a lot by Maribou State, Taylor Mcferrin and much more. I still get my Drum & Bass fix and there are too many to mention there.
Any closing thoughts or shout outs?
First off to the listeners and those who take time to tell me they're digging the music. That is always immensely appreciated. Andy at None60 who has helped me gain some confidence back by releasing "Future You". D Bridge and Tokyo Prose have been encouraging and supportive to me through the years which has been invaluable given their talent and stature in the scene. Every other label, DJs and collaborators I have worked with over the years and to DNB Universe for taking the time to talk to me!
Keep updated with Altitude at any of the following links.