Seba has been crafting magical soundscapes for Drum & Bass/Jungle music for over two decades. His music spans across a great number of prominent labels and he continues to expand on the list of artist collaborations. Seba's new album "Ingaro" is another excellent body of work and is out on his own imprint Secret Operations. Ingaro offers a wide variety of atmospheres and styles that will sound fresh when you revisit it years from now. DNB Universe was able to get in contact with Seba for a few questions on the new album.
Hello Sebastian, thank you for making time to talk, how are you doing?
Hi, I'm doing ok despite the difficult time that we're living in.
You have kicked off the year with a great new album of music. The album title "Ingaro" is also the name of a small island you have called home for some time now. How much has your home environment inspired your music? What were the factors that made you choose the title of your album?
I don't feel that my environment has any impact on the music that I write however if I wouldn't live here, my music would probably sound differently. I guess my environment does have an impact on a subconscious level. Things that do inspire me are other musical genres, movies and other things in life. The title came up as an idea from the graphic designer when we were working on the album artwork. He seemed to be very intrigued when I told him about the place that I live at, it's nature and all islands.
This album is another great collection of music you have put forth. Is every song on the album new material or have a few been kept secret on dub waiting for this moment?
I decided to go through my hard drive and finish some ideas that I've been working on for a few years. Tracks that were never finished and then put aside, kind of like Calibre Shelflife series. While doing that I felt that some tracks didn't match for an album so I had to sit down and come up with some new ideas for tracks. So you could say that some of the tracks are not necesserily old, but to me they are. Some tracks are brand new.
It's great to see and hear the diversity on this album with the artist collaborations you have included. Blackeye and you linked up before on the Rupture "Fifth Column" compilation, could you elaborate on how the other artist connections on your album came about?
Collette approached me about working on a track. It turned out to be an easy job for us to work together and while doing it I asked her if I can put it on my forthcoming album. Marina was running a night in Madrid and she booked me a couple of years back. That's when I've heard her MCing. I think that she has a really nice flow and a good singing voice so I've been thinking ever since to do a track with her and this was a perfect occasion. She was very happy when I asked her. Björn and I are friends for many years and we wrote this track in 2009 together with Samuel Lancine. The track was never completed, there was something missing. While compiling the album I felt that I needed a non drum and bass track for it. After hearing it for so many years I discovered that the missing ingredient was a solid beat. I just fixed that and it suited the album.
You have released so much good music all over the place since your last album. Any particular reason that you decided to put out a new album now? What type of criteria do you set for yourself personally when choosing songs that will make the cut for your albums?
I felt that I haven't put out an album for a while so it was time for it. This is my third album. Everytime the process has been to make something that you can listen to from beginning to the end. I don't want my albums to sound as a compilation of tracks that I've written. I want it to sound consistent and not too repetitive.
Purchase Seba's "Ingaro" album at the following link!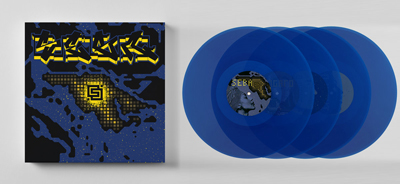 Secret Operations Bandcamp
Keep tabs on Seba at the following links
Secret Operations
Facebook
Secret Operations Soundcloud
Instagram