With an early jump start into music through playing hiphop records, Jaybee soon gathered an interest into electronic music and has since been able to land his productions on a variety of great drum & bass labels. Hosting a nice selection of collaboration and remix work with other talented producers, broadcasting on Bassdrive and keeping busy with life, we were able to get in touch with Jaybee for a brief chat.
Hello John, it looks like you are back again on Trust Audio, landing a track on the new, "Trust In Jungle" Vol. 1, compilation. Great work here on your track "Hostile", with a nice minimalistic approach but still full of atmosphere and character! This follows up from your last visit working with Terraform and you have already appeared on Trust Audio a few times in the past. How long have you known Trex & Quest, and do you feel at home releasing music on this label?
I have known Joe and Tommy for a few years now. Joe a bit longer than Tommy but both are solid dudes!! Joe and I get along and work together great and he is someone I consider a great friend. He has always had such talent but has always been one of the most humble down to earth guys I know and am proud to call him a friend. As far as feeling at home on Trust Audio? 100%. I weirdly enough happened to be in the room for their initial discussion on it. I feel honoured and privileged to be able to help them push the label as well as it being a good look to have them supporting my music.
We enjoy the recent collaboration work you did on the none60 Records release with Calculon, Dave Owen, & Neve. You also have some great music with Madcap from past years on Soul Deep & Good Looking that are among some of our favorites. Any forthcoming collaboration or remix work going on that you would like to share about?
Absolutely. The remix I have done for Trex feat. Fox - "What I Say" has been getting great support. I still can't believe I got to remix that tune. Funny story about that one actually. When Randall first reached out to me to remix one of the tunes off Joe's album we had a conversation about it and he said he thought I should do Hellfire and he would send me the parts in a day or so. When the parts came through they were for What I say which is the tune I really wanted to remix but never said anything about it as I was worried I might not be able to do it justice because it was my favourite tune on the album and also has some personal meaning to me as well. I figured I would give it the ol' college try and would end up creating what I consider the best track I have ever done. Also Traumatize has absolutely murdered the remix of Hellfire so that worked out lol!
Also on the collab tip watch out for the new M3NACE project Dave Owen and myself are doing. We have a handful of tunes finished and a bunch more on the go.
I also have something with Random Movement and Dave Owen that will be coming out on Random Movements album which should be out in the next month or so. Random Movement is another person who I work very well with. I also always say I owe everything to him as he is the one who showed me how to really make a tune!
Can't forget Space Race, the collab Trex and I have done which will appear on his next album and Sub Limits, the collab I have with Freeze which will be on my next EP, both forthcoming on MAC II.
You have been fortunate to release music on a number of great labels over the years. Any knowledge or good practices you would like to share in regards to producing music or releasing tracks to labels?
The great thing today is there are tons of tutorials and labels are more accessible than ever so getting your music signed is more realistic than ever. Send those demos out and never give up.
When you have some free time away from the studio, what other interests or hobbies keep you busy?
Honestly between work, spending time with my daughter, and music I don't have time for too much else lol but am always up for a good vacation.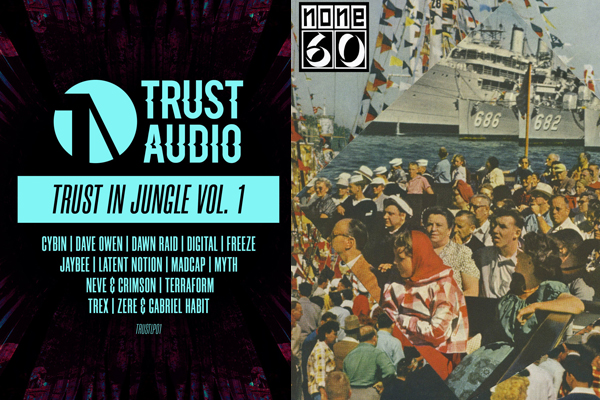 New or old, from any genre, what music has caught your ear recently that we should check out?
My roots are Hip Hop and for me right now its all about Griselda. If you aren't up on them you need to be. Check for Benny the Butcher, Conway the Machine, and Westide Gunn. As far as DNB make sure you keep your eye on what Randall is doing with Mac II. He is bringing up alot of dope artists and releasing some amazing music. Also I know Trust Audio are stacking some heaters for future release!
Any closing thoughts or shout outs?
I wanna give a huge shout out to Trex and Quest for putting this album together. I know how hard they have worked on it and how hard they have worked on building the label, so it makes me quite happy to not only see this album coming out and to have a track on it, but there is some serious tunes on the album.
Always gotta shout the homey/bossman Randall and the whole Mac II family for everything he continues to do for the team. It's a blessing to be part of it! Also wanna say a huge thank you to everyone that has supported my music. Without you there is no me!
You can follow Jaybee at the following links.