KarmasynK is a young, talented artist from India that has been living in Los Angeles crafting his sounds. He jumped right into learning about music production and has also put together his own installation called Karmabounce. KarmasynK is proficient in various areas such as mixing and mastering, modular synthesizers, plugins, buiding custom effect racks as well as a list of other skills and accomplishments. He has music released on labels such as C4C, Play Me, Formation, Delta9, Code Recordings and more. KarmasynK is always keeping active, whether it's making music, being involved in the local event night community, or even creating new audio applications. DNB Universe got in touch with Karamasynk for some insight on him as an artist.
Hello Ruturaj, how are things going out on the West coast?
Hi Maurice, things are well up here, DnB is thriving in North America and I couldn't ask for more! Its surprising how many people that I meet at shows, who know about all the underground labels and artists like Delta9, Overview etc. Amazing!
You studied arts and music technology at California Institute of the Arts and have been releasing music under the KaramsynK moniker. Your resume is highlighted with various accomplishments, knowledge, skills, and opportunities. Can you please give our readers some insight into who KarmasynK is and what were the forces that got you interested in Drum & Bass music? What were a few of the first Drum & Bass songs that you heard?
Thank you very much for the kind words. The origins of the KarmasynK go back to 2012 - the year I moved to California. I was a teenager totally in love with electronic music growing up in Pune, India. Psytrance was really the most accessible electronic music in India at the time when I was growing up strangely - possibly due to the proximity to Goa. I had been playing guitars in bands for a while and after my exposure to dark psychedelic parties, wanted to take up electronic music full time and I was looking for career opportunities that could come with having a skill set of an electronic music composer. At the time, there was no such serious Music school in India where you could get a formal college level education in Audio Production and after looking into my options I decided CalArts was the place to be.
I had already been dabbling with DAWs and making psytrance under a different moniker then - but the process of leaving everything and everyone I know behind for the pursuit of passion was really profound and the struggles of adjusting and living on your own in a new place helped me define what I really wanted from my music. And hence - KarmasynK was born. It was serious and had to be everything I represented. In Indian spiritual beliefs, the word Karma has many meanings, one of which, is the work that you do in this life. So simply put, KarmasynK as an artist means syncing with your artistic practice.
When I moved to California, I was exposed to the West coast Bass music which I was immediately attracted to because it merged the psychedelic elements of Psytrance but also did cool things with the bass, which I felt was very modern. I discovered Tipper's music and fell in love and I immediately had a clear direction of what I wanted my music to do - in principle. Over the years, the medium has changed from bass music, to glitch hop and everything in between, but the main idealogy has always remained the same. So I was already a little bit familiar with DNB as a teenager in India. One time while scrolling on YouTube, I came across The Prodigy - Voodoo People (Pendulum RMX) on UKF perhaps and then immediately saw the live performance of it by Pendulum with the whole band at Brixton Academy. I fell in love with the sound and we started covering the song with one of my bands. Technically, that was my first introduction to DnB. But, fast forward a few years later, and I am deep in production, going to one of the best music technology schools in the world, learning about all kinds of music related technology stuff, not just related to music and in general was an amazing creative environment to be in. During this time, I discovered Mefjus X Emperor on Critical Music (I wish they would make music together again) and the production level and the groove and everything was just next level. It had amazing sound design but was also very dance floor oriented - which is what I liked about Tipper, and what I wanted in my music. Through that, I discovered more and more DnB and I figured out that this is what I wanted to do and completely just switched over to DnB.
Strangely enough, I personally didn't think DnB was that much different in philosophy than other Bass music - it was just that but done better. But apparently people in the Bass music scene didn't seem to recognize that and the agency and the labels that I worked with decided to drop me as "they saw no future for DnB in America". So that was a tough period and honestly I didn't have the skill level to be considered by European labels that I loved. So for maybe two or three years, I had no official releases and just kind of shut myself in the studio and focused on Drum and Bass. I kept sending demos to artists that I liked and eventually Eddie (Optiv) from C4C got back to me on an email one day and said he loved the music and would love to sign it. That just changed everything for me because Eddie just opened up so many doors for me, here in America as well as everywhere else and from then on it was no looking back, May his soul rest in peace <3
Whether you are making music for video games, some new Drum & Bass songs, or even creating something like your Karmabounce project, etc, do you have a favorite thing you like to create or work on? What other aspects of music technology would you like to learn more about?
Lately I have been switching between Ableton and Bitwig. I believe that in today's world of technology driven composing, the tools that are available in the market greatly drive how the music is written. I mean, that is generally been true throughout history - the availability and construction of the musical instruments denotes how music is written. Similarly, using different tools, different DAWs, different plug ins, leads to a slightly different reason because each software manufacturer makes a conscious choice about what feature of a similar product is to be emphasized, which is what sets their product apart but also for us as consumers it means that it has a slightly different purpose. So expanding on that I would really like to continue learning more about audio plug in development and see what we can do in that realm that can help us drive the techniques we use forward.
Recently your song Moondrops came out on Delta 9 Recordings and there was also Electric Blue on Code Recordings not too long ago. Besides electronic music, what other genres and artists do you enjoy listening to? If you could have the opportunity, who are a few Drum & Bass artists that you would like to collaborate with?
I am a huge fan of Indian classical music - think Pandit Ravi Shankar. In fact, the Indian music program at CalArts was started by him and I had the great fortune of learning under Aashish Khan who is a sarod legend and the eldest son of Ali Akbar Khan after whom the biggest Indian Classical music school in North America which is located in San Jose, is named after. He is also the torch bearer for the Maihar gharana which is a style of playing - Think labels. There are different gharanas and they also have slightly different flavors and approach similar concepts differently - just like Critical, Hospital and Eat Brain are all DnB labels but each have their own flavors which can be significantly different. I love the spiritual aspect to it, I love the dedication and devotion of the musicians to the said practice. That is very important for me as KarmasynK, is not only a DJ project for me, but also a self practice. As they say, practice IS THE teacher. And music just happens to be my medium. Ahh, dream collaboration would be with Noisia, Mefjus but really there are so many cool artists doing cool stuff which is unique and I would like to collab with everybody
Do you have any updates you want to share with readers, regarding upcoming music or other projects, as well as any dj perfomances?
As you already might have noticed, mainstream DnB is on the rise in the USA but there are so many underground crews that are doing amazing stuff with the kind of DnB which I like. We have an amazing warehouse scene here in LA and the crew is coming together and launching a label as well as label nights dedicated to dark minimal Drum and Bass. We started things off with a VA and a label launch party on Oct 22. It was amazing, at an outdoor location in DTLA and ran till the wee hours in the morning, and you bet we were rolling deep in the murk all night. Then the halloween Weekend I was back in San Francisco where I spent a good bit of time with my Church of Drum and Bass family at DNA lounge. This also was a full DnB night in the main room at one of the most popular venues in SF. Yes, it's getting more and more common to see all DnB nights at popular venues and I am here for it! More of this please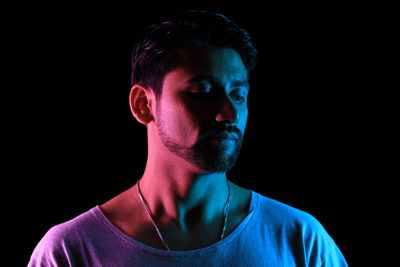 What venues or event nights in your area do you like and are worth checking out? Where are your favorite spots in town for food?
Well, Momentive is definitely the one to watch out for. But RESPECT has been pushing the sound even before I could spell DnB, and its definitely one of the hottest nights in USA for drum and bass. Also want to give a shout out to STAMINA over in the bay. Jamal and the crew absolutely holding it down week after week. Its what I love about DnB - its a free night. Small club with dark dance floor that gets packed and sweaty and of course, proper DnB through and through innit? As for food, I am fortunate enough to live in LA which is like a Mecca of food and restaurants. A simple google search will tell you all about the best places. So apart from those, my personal recommendation is Pine and Crane which is this Pan Asian fusion place and its freaking amazing! Highly recommend! Sadly, all the Indian food in LA is trash. I am also on a hunt for some good shawarma - so if any of LA readers are reading this, please hit me up with a recommendation on my instagram or something!
Any closing thoughts or shout outs?
I just want to take this opportunity to thank you Maurice, for doing what you do for the DnB world here in America. Appreciate the true DOGs and soldiers fighting the fight! Respect <3
Keep tabs on KarmasynK at the following links
KarmasynK Soundcloud
KarmasynK Instagram
KarmasynK Facebook
KarmasynK Twitter