DNB Universe has reached out for a brief chat with the drum & bass dj and producer, Jumpat. Staying active with his local scene in Germany and with a number of releases now out, he is also a staple in the Sun & Bass festival each year in San Teodoro!
Hello Patrick, you have been djing and making music in the German drum & bass scene for years now. How are things going over there recently in the local and surrounding areas?
Yeah, I've been playing Drum and Bass for 16 years now. I started out in my hometown Oldenburg and moved to Cologne in 2001 (where I still live). Cologne has a pretty healthy club scene with dnb nights on a weekly basis. We've also got some quite talented producers who keep this area fresh and unique. Cologne's immediate surrounding areas are Düsseldorf and Bonn with some dnb nights, and a little further afield there are also nice parties in areas such as Ruhrpott, Münster and Osnabrück too.
Can you give readers a little insight as to what first got you interested in drum & bass?
It was in 1999 when I first discovered Drum and Bass music. I went on a school trip to Barcelona where it also happened to be the week of "fiesta de la merce" - the biggest fest in that area. DJ Hype & Zinc were playing on an "open-air" event at the harbour and that's when I got hooked. The drive and energy of drum and bass really got me, it wasn't just the music but also the vibe, such a large variety of people dancing to one groove, and I loved it right away.
You have a track titled, "It Goes Like" that is out now on the Delta 9 Recordings label. Have you been getting some good feedback so far?
Well that tune has been going around for a while now and I received a lot of support from my mates Survey, NME Click and Stunna to name a few. But yeah, I'm happy the Delta 9 guys spotted my tune for their compilation "From the Streets", due to their good promotion it recently got featured by Amoss on Cranium Session 25 podcast too.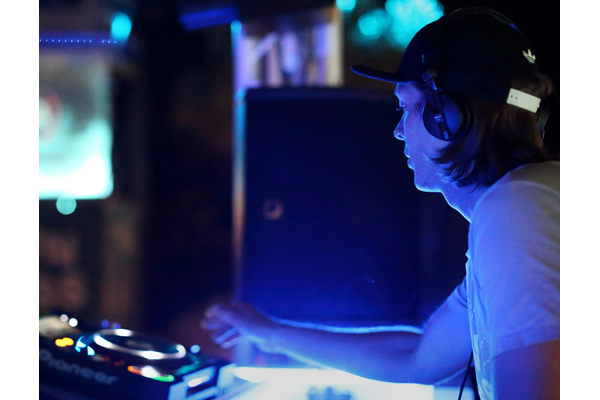 Photo:Sam Baker Photography
Do you have any plans in the works for some more upcoming releases that you could tell readers about? Any remixes or collabs you can share info on?
Yeah I'm working on some tunes but time is always an issue. I've got some labels asking for material and I hope to get onto that soon. I'm also looking forward to completing some collabs with Submarine, Decon and X-Plorer. I'll keep you posted on this one, but the best place for people to keep in check with my releases, is via my Soundcloud
Your Sun & Bass podcast from awhile back is still a great listen. Do you still hold a residency at the festival? Any upcoming events that you would like readers to know about?
Yes I still hold a residency at the drum and bass paradise in San Teodoro. The first time I played there was in 2005 and this year will be my 12th time at SunAndBass, I'm already looking forward to seeing all the SAB crew in September! I also hold another residency at Cologne's legendary Basswerk Sessions. I can highly recommend the "Basswerk in den Mai" event that is held each year always on the 30th of April at Gebäude 9 featuring both international and local talent.
Can you give us 3 drum & bass tunes that have been getting a good play in your sets lately?
Alix Perez & Skeptical - Room 667
Blanca & Akinsa – Last Words (Akinsa Dub)
Homemade Weapons – Conduit VIP
Any closing thoughts or shout outs?
Yes – shout outs to everyone supporting me. Big respect to all the promoters appreciating the true craft of a DJ... and thanks for having me dnb universe!
You can check out Jumpat's latest mix below.
Keep tabs on Jumpat at any of the following links: