Artsea keeps active by seeking out the best food spots, producing music, and helping support the local drum & bass community in Melbourne, Australia. Ready to give out some free music this year on his Soundcloud page and with a new release out on Shadowhearts Recordings, he is all about getting the music out into the world. After working on music in all genres for a number of years now and coming full circle back to his big love for Drum & Bass, we caught up with Artsea to see what he's been up to.
Hello Aden glad we could have a chat with you. How are things going?
Great thanks! Stoked for the opportunity to chat. Things are going pretty good, of course a bit uncertain with things going on in the world now, but I've still got my job and am able to make new music, so I can't complain!
You produce music in a variety of genres, but have really been focusing on the drum & bass angle a bit more here recently. What I've heard so far is good, so hopefully we can hear more drum & bass creations from you. Any particular artists or labels that got you more interested in the genre?
It's funny, I've actually been into DNB for a long time, and it was one of the first genres of electronic dance music I ever got into. I really got into it around the time UKF was blowing up in 2010-2011, and I was listening to a lot of Netsky, Camo & Krooked, Delta Heavy, early Dimension etc., and then slowly discovered the wider liquid scene with artists like Logistics, Nu:Tone, LSB, BCee, Makoto, through labels like Hospital, Spearhead and the like. I also was producing it at the time under the 'Birthed' alias.
As I got older and ventured away from DNB for about 4-5 years, pursuing a variety of other genres like future beats, downtempo, lofi hip hop, indie electronica and deep house. I often try to combine a lot of these influences in my music to this day, but after rediscovering liquid in the last year or two I have really gone deep into the scene, discovering amazing liquid labels like Fokuz/Celsius, Soul Deep Recordings, Integral, Soul:r and more. Returning to DNB feels like returning home for me, and I'm thankful to have picked up a variety of influences along the way to help me approach the genre with a fresh perspective. Expect a lot more of it!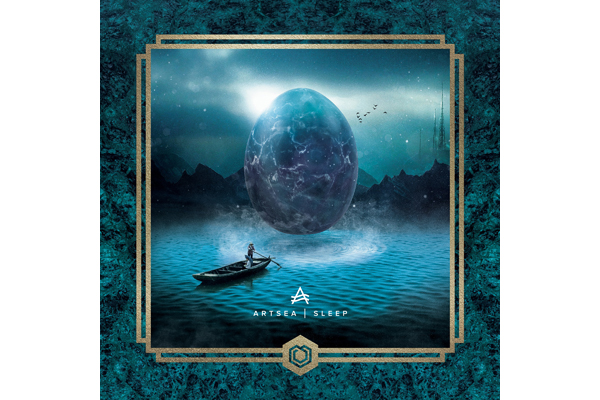 You have a new release out via the Shadowhearts label and it sounds very nice with deeper liquid vibes! How did you find out about the Shadowhearts label and also get Monika on for a remix?
Thank you! My friend Aaron who I originally met online back in 2011-ish lives in Melbourne, and I moved to Melbourne early last year from Brisbane (2019). We hadn't talked for ages but when I started getting involved in the scene, we met in person for the first time at a local liquid night (shoutout Zayler who runs the Delight parties). Aaron helps Andy run the Shadowhearts sub-label of Slime Recordings, and I sent him a few demos after telling him that I was making liquid again.
When Andy heard the demos and was keen to release an EP, I had the pleasure of choosing a 3-track EP of either 3 originals or 2 plus a remix. I was super interested in hearing someone remix one of the tracks, so we got Monika on board. I hadn't heard heaps of his music before he remixed Sleep, but I'm definitely a big fan now, and he's someone to keep an eye on for sure.
Is there anything that helps you stay productive in the studio? What are your struggles?
Having goals for me is super important. Thankfully I work at a company called EDMProd where I get to make a lot of educational content for producers so I get to talk about productivity a lot in my day-to-day, as well as practice it when I'm making music. I think my struggles are fairly universal - sometimes I lack motivation, sometimes I'm having a string of bad ideas, sometimes other things are going on that distract me.
However, one thing I'm doing this year is finishing one track every week. This way I can be sure I have a consistent flow of new music and am always trying to up my game. I do this by working on music for a bit every morning before I get into my work with EDMProd for the day. Prioritizing music first means that I won't skip it later in the day when I'm tired.
Do you have any news you would like to share with readers about other possible upcoming music releases?
Alongside this release, I'm putting out one free download a month on my Soundcloud this year to keep the music consistent. There are often a lot of tunes I finish that I think need to get out into the world but might not suit a specific label or got rejected for whatever reason, so it's good to be able to occasionally put out new music.
I also have a backlog of tunes that I'm trying to put out on various labels at the moment, nothing concrete yet but there definitely is no short supply of music! There are a few labels I have in mind, so we'll see what happens.
What are some artists or albums from any genre that are good to check out?
In the realm of liquid/DNB: Leniz, HumaNature, Redeyes, Deeper South, Lux.
Other electronic music: Four Tet's new album 'Sixteen Oceans' is real nice, but here are a few other artists across the spectrum worth checking out: Nachtbraker, Gold Panda, Bonobo, Leon Vynehall, Jai Paul, Teen Daze, DjRUM, Washed Out, Vanilla, Thrupence and Emeralds, just to name some off the top of my head.
What's going on in your local city that is worth checking out, such as event nights, food, attractions, etc.?
As I briefly mentioned, Zayler who runs the Delight Liquid parties here in Melbourne are definitely worth checking out for an intimate day party vibe (once we're all out of isolation), and also big ups to Adam, Ben, and Jon who are involved with onesevenfour, an events/touring company for the Aus/NZ circuit (who have given me cool opportunities to open for artists like BCee, Fred V, Villem, Enei, Halogenix and more) - they throw some of the best nights around and have become great friends of mine.
Melbourne has too much insane food and coffee places to reel off in this interview, but a few of my favourites are: Cookie, Chin Chin, Rice Paper Scissors and Auction Rooms (have made a lot of music here). Honestly, Melbourne is a great city to get lost in and just wind up at the nearest cafe/bar and hang with your mates.
Any closing thoughts or shout outs?
Shout out all the Melbourne crews creating the DNB scene down here in Melbourne/Australia: onesevenfour, Delight, Twisted Audio, Ambit, Need4Bass, EXP:Events etc.
Also big ups to my wife and close friends who always keep my head on straight!
Keep updated with Artsea at any of the following links.