He has been around for awhile whether you're familiar or not and is carving his own path into history with music. With an already nice catalog of releases and the motivation to keep doing his own thing, J Plates doesn't plan on stopping anytime soon. We had the opportunity to chat with him regarding his new debut album.
Hello Jeremy, it's great to be in touch for a chat, how are things going in your part of the world lately?
Hey Maurice, thanks for having me. It's been an extremely stressful and anxiety ridden year for me, one I don't wish to repeat anytime soon that's for sure.
Fast approaching in November, your debut album "Seven Days Of Fire", will be available on your self titled J Plates label. This album is comprised of fourteen tracks with a heavy and organic design. Did you already have an idea in mind for the direction you wanted to go when starting work on this album? How many tracks did you cut from the original list?
Yea that's right, 'Seven Days Of Fire' will be my first full length album and also a self released project. I don't see it so much as a label per se, but more of an individual outlet for some of my older material and newer releases which don't seem to fit in anywhere else.
The idea for the album project came about basically because I had a whole bunch of material sitting around that I really wanted to do something substantial with. I thought about a series of EP's, but after I spent a little time putting together a potential track list, the shape of the album quickly came together. I managed to utilise most of the tracks I was aiming for while also trying to organise them in such a way that perhaps eluded to a storyline, rather than a series of dance floor tracks, but it's pretty loose conceptually.
I think initially I had about 10 tracks, but decided to add in a few extras once I had more of a concrete idea in terms of the running order. For example, I really wanted the title track 'Seven Days Of Fire' to literally be track #7 and it also turned out to be 7:00 minutes exactly, so that was my starting point. It's definitely a more darker sounding body of work perhaps compared to some of my previous tracks, but a lot of these tracks were composed around the same time and just didn't find a home until now.
I also don't think music needs to be thought of as a linear process, so I like the idea that you can create a body of work and let it lay dormant for a while before going back to it and utilizing a fresh perspective. I don't think this album would have come together if it weren't for that approach.
This year has seen you with more focus on releasing music via your personal J Plates imprint. Doing just about all the aspects of the process yourself from start to finish, how difficult has this development been for you trying to become so independent?
It's been a very organic, slow process, which has developed over the past few years. I've been aiming for some kind of autonomy for a while, but having more of a focus and extra time has really brought that notion into fruition. It's still very early days and the current situation has really taken it's toll on me in many ways, so we'll see how things develop into the new year.
It looks like you also have, "The Eternal State" EP, coming out on Silent Force Recordings very soon after your debut album. Does this mean you will continue to release music outside of your own label?
The Silent Force release will be the first time my music is made available on vinyl, so I'm pretty happy to have those tracks find their resting place.
I'm keen to release my music in as many ways as possible, but it has to make sense to me and whatever I'm trying to achieve with the project. I'm just trying to get my music out there and trying to get better at what I do. I mean, I've never considered myself a very good studio mixing engineer and I've certainly learn't and developed a lot over the past year; used different approaches and tried to refine my sound where I'm able to achieve it. At the end of the day I'm striving more towards the song or arrangement that feels right and comes together in it's most solidified form.
I'll always be open to label releases, but I like the idea of being able to put together my own aesthetic and direct the entire process, for know other reason than to learn new skills and refine what I do. The more music I can release, the more I'll learn and develop those skills towards the next project and so on.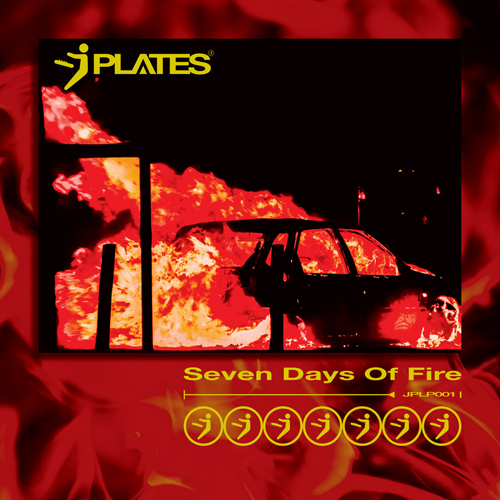 J Plates - Seven Days Of Fire
What consumes your time when your aren't busy working on music?
I've been trying to stay physically active and eat healthily. It sounds boring and kind of simple, but it's pretty much what grounds me outside of music these days. In the past I would have just gone out to a club and danced all night.
Do you have any favorite vacation spots to recommend? Maybe even a local attraction that readers should check into?
Well I haven't had a proper holiday in many years; my finances can only afford so much. I don't get out much, but I've really enjoyed the North Yorkshire area I'm currently living in, it suits my pace really well at the moment. I'd love to be back walking along the wintery, snow covered canals of Amsterdam, or sipping aged port somewhere along the cost of Portugal, but for now I'll settle for a muddy puddle and a cheap Tawny.
What have you been listening to lately, any genre, new or old?
I'm currently listening to 'Moby - Rushing' as I type this, leading into 'Kraak & Smaak - Ready For Life' - thank's shuffle. I've been going through some old CD's and Records recently and trying to put together a bit of a Halloween playlist, some notable inclusions include; Fantomas, White Zombie, Coal Chamber, Sisters Of Mercy, Tubeway Army, and Motley Crue.
I generally tend to go through phases with music. Dance music wise, it's easy to be able to put on a playlist and let things melt into the background which I love doing, but I like to reserve any sort of serious contemplation for when I'm mixing or hunting out new music.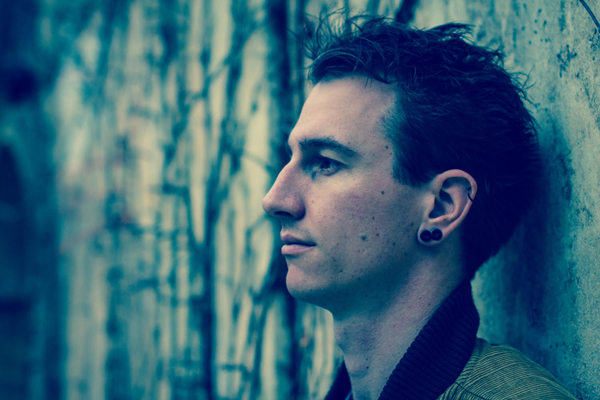 Any closing thoughts or shout outs?
Stay Positive. Stay Healthy. Stay Active. Stay Connected. Stay Human.
Check out 'Seven Days Of Fire' available exclusively from jplates.bandcamp.com, Beatport & Juno Download stores from the 30th October. Special Halloween weekend pricing: Purchase the full album for the spooky price of £7.00 (ends midnight 01/11/20, offer only available from jplates.bandcamp.com)
Check out J Plates' Social Links & Highlights: J Plates Social
@jplates #jplates
Keep updated with J Plates at any of the following links.