Promenade has a big love for music and is always active in the studio on new projects. In addition to running his own music label, BNC Express, he also makes time for teaching others about music production. Promenade has just put together another album titled, Landscape Anatomy. We reached out to him for a brief chat.
Hello Francesco, it's great to have a chat with you. How are things going for you lately over in Prague?
Hi guys! First, thank you for your interest in my music, I really appreciate it. Things have been quite tough during the past two years but at the moment we are smelling freedom again. During the lockdown I tried to do my best to move on and make the best of the situation. Right now I can say I made a lot of music, I explored new creative processes, and I've even started producing new genres (Lo-Fi and Chillhop): not bad!
Right now on your own BNC Express label, you have a new album out titled, "Landscape Anatomy". This album is very nice and cohesive. Can you give readers some insight on your overall idea or concept for this album? Do you have a song from the album that is a personal favorite?
Landscape Anatomy is one of the results I achieved studying non stop and trying to turn my usual routine upside down. I believe that every artist should be able to deliver a message through his music and bring the listener into a specific mood: In every tune I played with some sounds from the past and we can say the fog horns are the main theme in the whole album.
Now that you have just put out this album, will you be taking a small break from production or do you constantly keep active? What helps you stay creative and motivated when working on bigger projects like an album?
I can not stop, making music makes me happy. One of my favorite artists - Stevie Wonder - once said, you have to do your best to make a tune a day, you have to keep your imagination trained! I am currently working on Landscape Anatomy part 2 and some tunes are already done. I played some of them during my last set at Cross Club and it looks like they work pretty well!
Anything you would like to share with readers about what else is on the agenda for BNC Express this year?
Our next release is an amazing single from NcoMfortable, one of the BNC's artists I respect the most. We've been collaborating for years and I personally love his sound. After him is time for an upcoming producer from Bari (Italy) called Xyde and later Pete from Czech Republic. We planned our catalogue until 2023. Unfortunately, we were unable to organize Southern for this summer. In Italy Covid rules are still quite restrictive. We will try to spin some records but I am afraid we have to wait another year for it.
Are you still helping other people learn about electronic music production in the small studio you have setup? Can you also give readers some details on the BNC Academy?
Yes, I do! We set up a Patreon Page where people can download lessons, sample packs and so on. It has been quite a job but I was not alone in the making. I made it together with Betterfly, a really talented Lo-Fi artist who happened to be a former BNC academy student.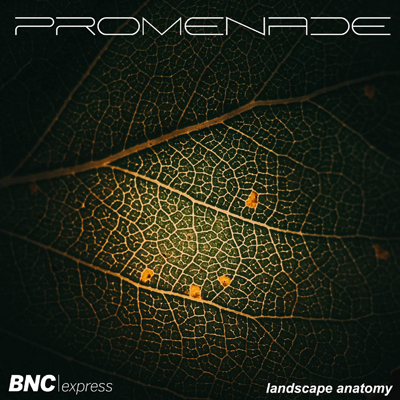 Promenade - Landscape Anatomy
Who are some artists in any genre that you enjoy listening to lately? Anything specific that is always getting replayed, that readers should check out?
Shining a light on the Prague dnb scene, I'd like to recommend your readers to listen to Ripple, Furious Freaks, Standpoint and Simple Souls.
When you aren't busy with music projects, what other interests do you have or some other ways you spend your free time?
My wife and I just adopted an 8 month old girl. Eva is our personal miracle, the best project so far! She loves music and she is going to be in charge of the label soon! We are learning how to be parents so my free time is her's exclusively at the moment.
Keep tabs on Promenade at the following links
Facebook
Soundcloud
BNC Express Facebook
BNC Express Soundcloud