Floating under the radar, Channell remains open minded, and keeps active playing bass along with guitar in a few groups outside of producing music in the studio. Having recently moved to Manchester and staying engaged in the local music culture, he remains positive with solid releases already part of his resume. With a big love for drum & bass music and enjoying the creative journey, we caught up with Channell who was kind to spare some time.
Hello Alfie, great to have you on board for a chat. Can you give our readers some background on where you are from, how long you have been producing, and what pulled you into drum & bass/jungle music?
Hey, great to be a part! I was born in South West London and grew up there until I was 18 when I moved up to Manchester. I've been producing for about 5 years now, loving it more as the years go by. The move up to Manchester was the turning point for me and is really what pulled me into making drum & bass/jungle music. The city has influenced me in a way I had never really experienced before as a producer or a DJ. The people I met, the nights out, the grittiness of the environment really pushed me and opened new doors. Quickly after moving here in 2017, I met one of the main influencers to me in the past 3 years, Jonny Porter (aka Motiv). We've done a lot musically these past few years, pushing each other, whether it's in the band or in the studio!
You were able to land some of your music on a few different releases at the end of this past year, on labels such as Fokuz, Celsius, and Liquid Lab. We are really enjoying the moods in the songs, along with the arrangements and attention to details. What helps you stay creative and what are some of your struggles?
Yeah, it's been a super exciting and productive past year and I've been privileged to get a few releases under my belt and get the ball rolling.
In terms of creativity, anything can inspire me to be productive and make a song, but ultimately, I love listening to a range of music, all sorts of genres from house to jazz, from soul to world music. These play a part and contribute to my style and sound.
I keep the creativity flowing by playing instruments, I play bass and guitar. I have various bands and groups I'm involved with and find that playing an instrument and participating in groups allows me to understand the musical world better and learn from others, especially when producing my own stuff.
Writer's block is definitely something I struggle with, I can go a few days or even sometimes weeks with projects never reaching a productive ending. I try and keep myself busy and not force anything, forcing it can often lead to frustration, and this can almost certainly lead to unproductive work! Eventually I'll find something that inspires me to get going again and feel excited about something new, that's always a good day.
The productions that you have done are on point and you're great at capturing the songs essence from beginning to end. Do you feel most at home with the liquid funk sounds?
Thanks, appreciate that a lot. I love melody & harmony and how diverse it can be. I definitely feel at home with liquid funk as it takes a lot of influences from other styles and genres that I love, then putting those aspects into a club environment so people can get down and have a good ol dance to!
Any particular vocalists or labels that you would really like to work with if you had the opportunity?
Tyler Daley has a great voice, it would be amazing to work with him. The London jazz scene also has some amazing vocalists, Poppy Ajudha has a lovely voice, it would be great to have her on a track. Other soulful vocalists such as Jordan Rakei are also brilliant, the list goes on...
Moving onto more Mc's/rappers, I recently came across rapper Duskee and have been enjoying his material, his flow and lyrical content are spot on, his EP Soul Drifts with FarFlow is proper smooth, I love it! He has releases on Fokuz so might be an interesting contact to get involved with.
Releasing music on Liquid V would be an exciting opportunity, I've looked up to them for a long time, they have an unreal back catalogue of music with some of my favourite tunes on and as a huge label they've got a brilliant following.
I rate the stuff Fokuz and its sister labels are releasing, they continue to release some quality material and it's been great working with them in the past.
Do you have any good spots for dnb nights in your local city?
The DnB scene in Manchester is very exciting and vibrant at the moment with promoters such as Hit & Run taking control of the underground music scene. We have clubs such as Hidden, Soup Kitchen and most recently The Mayfield Depot where Warehouse Project hosts their huge events.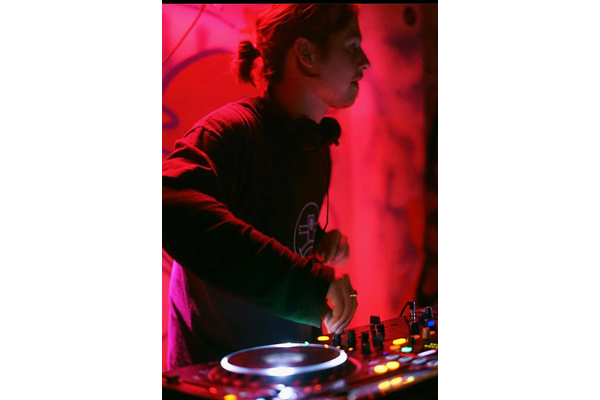 What have you been listening to recently, any genre or time period, that we should check out?
I have been listening to a lot of jazz from London, some seriously good music is coming out of there at the moment, some of the great artists leading this movement are, Alfa Mist, Joe Armon-Jones and Ashley Henry. Also been enjoying some broken beat house such as K15, Dego (4 hero), Saul, Steve Spacek and Henry Wu etc.
In terms of drum and bass, I've been listening to the new Surreal release on Fokuz (space odyssey), I love it, so funky! Also been listening to new Workforce, Sully and the new Gutterfunk: All Subject To Vibes album. But whenever I'm listening to drum and bass, Calibre is always someone I listen to, his music is timeless whether its his drum & bass or ambient compositions, the guy is a genius!
Any other forthcoming music release news or upcoming dj performances you'd like to share?
Got some exciting releases coming up soon, including an EP im working on at the minute through the mighty Liquid-Lab, always a pleasure working with Jim and Benny, can't wait to get this one out there!
If you're ever in the Manchester area keep an eye on what's going on, there's always a sick motive! Got a few gigs coming up, supporting the likes of DJ Die & Fox, Saxxon and Total Science.
Any closing thoughts or shout outs?
Would like to say a huge shout out to the labels and people that have signed my music in the past two years, and also to all the promoters that have booked me, cannot wait for the future years to come! Shout out to Maurice for this interview it's been brilliant and as I always like to say, it's been a pleasure never a chore.
Keep updated with Channell at any of the following links.