Without a doubt, Seba is one of the most versatile producers in the universe of Drum and Bass. From his exquisite drum programming , atmospheric background harmonies and profound basslines, Seba has mastered the art of Drum and Bass. And with Ingaro, his first release of 2022, he sets the standard high with a 4x12 LP box set on his own Secret Operations label.
The album is a sensational work of art filled with sophisticated drum work, hypnotic melodies, luscious pads, and atmospheric soundscapes, mixed with some diverse collaborations. "How it Goes" opens the LP with some soulful drumfunk that will blow your mind as Marina Samba's lyrics and vocals are the perfect blend with Seba's sonic mastery. Not knowing what to expect next after such an opener, 'Horse Power" comes riding in right behind taking a powerful stance with it's dreamy pads and solid drum progression, with the drop sending chills down your spine. Watch your subs with this one. Hearing "Etzil" for the first time took me right to a dark room filled with dancing junglists, walls sweating, bass thumping, and Seba dropping one of the nastiest sets you could ever imagine. This tune screams Drum and Bass to me as all the elements are placed perfectly for any dance floor and balanced soundsystem—expect to hear this one doing the rounds at Sun And Bass this year.
Speaking of diverse collaborations, Collette Waren's vocals on "All Too Much" are beautifully haunting in this futuristic techstep tune. Following that fantastic collab is "Diamonds," an unexpectedly delightful, sexy downtempo switch-up as the fifth tune out of ten on the release; Seba's production mastery is proven once again as he takes his listeners on a journey of sound. After that, the pace keeps moving as Seba throws you right back into the rhythmic, melodic Drum and Bass flow of "Sequence 5,"—one definitely for the steppers cutting shapes on the dance floor. Blackeye MC's vocals on "Thoughts Run Free" remind me of Maxi Jazz (lead vocalist for Faithless, for those that don't know), as the heavy drum patterns make this tune dark, raw, and uncut.
Moving right along, Seba takes us into a soulful liquid resonance with "Public Beauty"—and what a beauty it is! Lighters in the air please! Next is "Outer Worlds," a space-age tune with a gritty bassline of echoing sound reflections and a drum force for the unbreakable soul. Finally, ending this breathtaking release is "Progression," where Seba shows us why he is among Atmospheric Drum and Bass royalty, and which is perhaps my #1 tune from the entire album. But don't take my word for it—buy it for yourself and see. I guarantee this album will take you to the farthest reaches of the Drum and Bass Universe (and beyond) via your headphones. 10/10.
Purchase Seba's "Ingaro" album at the following link!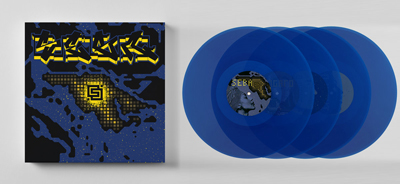 Secret Operations Bandcamp