This collaboration effort is a great combination and these artists are already on their way to creating an imprint in this worldwide community. Production duo Revaux have met up with Melinki to bring us the "Totem" EP on A R Records based out of the UK.
Hello everyone, thank you for having a chat with us! Did you all have an enjoyable summer?
Joe: Yeah thanks!
Ru: I thought it was still summer until I saw the Leeds Christmas lights being put up yesterday…
Sonny: One of the best summers I've had actually. Me and my girlfriend had our first son this year so it was our first summer as a family which has been amazing, and I was best man to my brother and his lovely wife on there wedding day which was a real honour. Best of all he had a stag do in Ibiza, which was very inspiring! Had some great gigs this summer too and made some of my favourite music I've ever made. So not bad yeah haha
You have all been active and putting forth music on various labels. So how did you first link up to start collaborating on music?
Ru: With Sonny? I think we first got in touch via Soundcloud years ago. He had us down to his studio in Hastings to play for one of his radio shows and suggested working on some music together. We both had unreleased bits we wanted to do something with so we put our solo tracks forward and swapped some unfinished projects; we sent him what he turned into Totem and he sent us what we turned into Sword Play.
Sonny: I Randomly came across them on soundcloud one day, heard one track and was like wooooaaah. Hit them up straight away and invited them down to guest on my bassdrive show, the rest is history.
The "Totem" EP out now on A R Records is a great release all around! This is a nicely put together production offering up a crisp collection of textures and atmospheres. Hopefully we can expect more collaboration work in the future. There seems to be good chemistry here. Does it feel natural or easy when working together?
Joe: We never actually worked on any of it in the same room which was a bit odd at first, especially as that's what me and Ru are used to. But it was fun writing a tune (Sword Play) around what someone else has already started to write. I think the elements Sonny had already were easy to write around so yeah I guess the chemistry was there purely through similar ideas.
Ru: Agreed, Sonny is a very like minded producer so our ideas seemed to flow nicely with his.
Sonny: Like I said, I was bang into their production from the first track I heard so I jumped at the chance to work with them. I do a lot of collaborating with people online, but weirdly only ever work on my own in the studio. I work with a few different friends just by sending ideas across, I love to collaborate because it helps me to expand my knowledge and get inspired, find it really keeps me on my toes aswell. It also helps when you reach a point in a track where you dont know where else to go, it might just be one tiny thing someone adds that completely brings the track to life. So yes it was very natural for me, it came together pretty quick and we have already discussed continuing the story some time in the future.
Ru and Joe, we are glad to see that your discography continues to grow with this latest release. When working on new music, do you have time to actually be in the studio together and can you offer any good studio habits or routines that help?
Ru: Well it's been a blessing to be in Leeds for the past year. When I was in London we rarely sat down in the same room and it's only then that we can really get in the zone and make good progress. We spend a day a week at least getting ideas down and developing new stuff. And as for habits or routines, starting a session with a coffee and a Gregg's is an effective approach, we've found.
Joe: It's also good having two places to work on music as it keeps ideas fresh. I find ideas can get stale if you are constantly working in the same room. We can work well for days on end, providing there is enough Gregg's, coffee and plenty of fag breaks. We do eat fruit sometimes…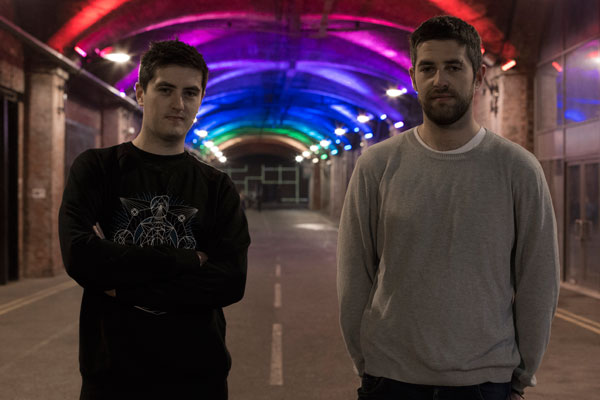 Sonny, you are always keeping busy with a number of things. How do you find time for producing?
With great difficulty haha, a very supportive partner and alot of hardwork, late nights and early mornings. Its hard to fit everything in thats for sure, you just have to prioritize. I'm still learning but I think I have an ok balance. I don't get anywhere near as much time as I'd like in the studio working on my own stuff, but that kind of inspires me to work double hard when I am at the studio and really make shit happen. The way I see it, if you want something you have to work for it. So I really don't care if I have to stay awake untill 3-4 am in the studio and get up for work at 7. I have always been and will always be hungry for it, that's what drives me, this music runs through my veins and I love it!
Ru and Joe, your release on Solvent Records from earlier this year with "Northern Air" & "Sinner" are very nice tracks and have that nostalgic, liquid feeling to them. What were some of the bigger influences for you as brothers, before you started to work on producing?
Joe: Having grown up together we have fairly similar tastes and our musical interests have definitely evolved over the years. For me my favourite band of all time have to be Red Hot Chili Peppers, they definitely inspired me to want to play in bands and write music early on; the variety in their songwriting is unparalleled! From similar influences we were in a band together for years, me on drums and Ru on bass, and I guess it just naturally evolved into producing together once we started to love electronic music more and more.
Sonny, how does it feel to have your rendition of "Children" on vinyl, as the original is sucha memorable song for many Robert Miles followers?
Amazing! I have been dj'ing since I was 13, I'm 31 now. So I used to buy alot of vinyl and always loved a cheeky bootleg, so to have one of my own on vinyl is a great achievement for me. Shoutout to Marco and all at Triple Vision.
Are there any upcoming individual productions and dj appearances for Revaux or Melinki that readers should know about?
Joe: We have an upcoming solo ep coming out on one of our favourite labels so keep an eye out for that!
Ru: Yeah there's a few things coming out soon, including a track with a great songwriter we know (David Stothard) and a soon-to-be-discovered soul singer (Karla Farrar). They haven't done any drum & bass tracks before so it was awesome to get some influence from outside of d&b. We also have a track forthcoming on a certain Brighton-based label with a certain Bristolian vocalist who is doing very well for herself at the moment (hint hint hint…).
Sonny: I also have an upcoming solo 4 track ep on one of my favourite labels haha, kicking it off with one track on a big compilation on the same label featuring some of my all time favourite artists which I am seriously chuffed about. This time last year I read an interview about said label and made it my goal to release with them, so I'm really happy I have achieved that.
Im working on a new ep with Demure and a new ep with Verva, liquid with Demure and angry as fuck music with Verva haha. Love working with these two, both amazing producers and feel that we really compliment each other well. So yes, very excited to get these done. I'm in no rush though, it's my new years resolution to really take my time on these tracks and make them as good as they can possibly be. Gig wise I have a monthly residency down in Hastings and I have Satl coming down to play Decemeber 2nd alongside ALB for his ep launch on my new label 'Four Corners music' (I could go on and on so I'll stop here haha).
What are some artists or tracks that have stayed in your dj mixes lately?
Ru: QZB always have a place in our playlists, it's very hard to delete a track from them when updating! Survey, Monty and Fre4knc also never disappoint and of course our pals Koherent (Precision & Subdivision) and Data 3. In terms of tracks, I've been rinsing 'Space 2 Breathe' by Bop. It's a bit of a curveball and always mixes up the mood on the dancefloor. Joe: I can't remember a set where I haven't played at least one Break tune, so there's always some Break in there somewhere. Sonny: Always Break haha, aside from that 3 tracks I just keep going back to time and time again are AYO by Satl, Blej by Halogenix and Cocooned by Bungle.
Any closing thoughts or shout outs?
Sonny: Yeah shoutout to Revaux brothers, great lads and loving seeing them go from strength to strength, really enjoyed working together. Secondly to Conrad at A R Records, he's been great to work with and was a really good host when he got us down to Bristol. Was a great night and he looked after us well. Nice to work with someone who's organized and keeps true to his word too!
Keep tabs on Revaux & Melinki at any of the following links:
Revaux Soundcloud
Revaux Facebook
Melinki Soundcloud
Melinki Facebook